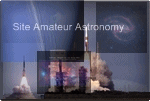 Home Page
Version française
Events, Moon, Planets
Evènements du mois
Version française. Contenu
Observation Initiation, Outdoor Packs

The site 'Amateur Astronomy' is aiming mostly to people who are self-interesting themselves into amateur astronomy. Some periods in the year, however, or some activities, or even some opportunities may lead to that some people, with no pecular interest into astronomy, may ask themselves some questions about those, or have their interest stimulated. The following initiation and discovery packs will help them into those questions! Those packs, on the other hand, may be usefully used too by beginners in amateur astronomy

->Seen a Documentary About the Sky, or Amateur Astronomy? Interested to Some More Complete Introduction?
You have seen a documentary on a TV chanel speaking about the sky and astronomy, or seen a reportage about amateur astronomy and feeling interested? Want to deepen that somewhat, or to a more complete and swift introduction? check our 'The Sky and Amateur Astronomy, a Swift Introduction' below!
->Outdoor Practitioner? Spending some Holidays? Interested into a Sky Initiation?
Occasionally encountering the sky during some outdoor activity? Spending holidays in a mountain, countryside, or sea resort, and closer to nature? And wanting to know more? check our 'First Encounter with the Sky Pack' below!
->More Outdoor Activities? Interested into a Deeper Sky Initiation? Your camp nights allow you further into the sky? You are interested, from your holiday resort, to know more about the night sky? Get those further steps! check our night sky Discovery Packs!

You have watched a documentary about the sky on a TV chanel, or a reportage about amateur astronomy, and feeling interested? Want to get some deeper, swift information and introduction? The tutorials below will help, introducing you to the night sky and the Universe!
picture site 'Amateur Astronomy'

You're an outdoor practitioner, liking to hike, climb, or canoe, for example. You like to spend your holidays in some mountain, or beach, or a countryside resort? Those activities are bringing you nearer to the nature, as you may be confronted to your first sky encounters, like some twilight or dawn views, the crescent of the Moon, or some glimpses of the night sky. And wanting to know more? Check the tutorials below, which will bring you into a swift, easy, and interesting initiation to the things occurring in the sky!
picture courtesy NASA's Marshall Space Flight Center and Science@NASA


Sights and Explanations!
A Swift View of the Universe

Your outdoor activities -camp sites, for example- are bringing you a step deeper into the night sky? Feeling the need, from your holiday resort, to spend some time to learn more about the night sky? Check the packs below, which are aiming to introduce you into those marvels! At the difference of the section 'First Encounter with the Sky Pack', which is mainly focused unto giving to the nature lovers, or the vacationers, some first and simple hints about the celestial objects they may encounter in their skies, this series is further dedicated to an approach to the night sky. A common trunk of knowledge is provided first in the section 'Basis', as the 'Night Sky Observational Guides' are parting into three parts, according to in which season and at which latitude you're observing (the part for the Southern Hemisphere is coming only for now). The 'All Season Guide to the Night Sky', is, as far as it is concerned, mostly refering to our tutorials 'Naked-Eye Sky Learning', as available in the section Observation of our Tutorials. A third section, 'More Theory: the Universe, the Space Conquest', at last, is giving some more simple descriptions of what the Universe is at large, and about the space conquest!
picture courtesy NASA


Basis
Night Sky Observational Guides
More Theory: the Universe, the Space Conquest

Website Manager: G. Guichard, site 'Amateur Astronomy,' http://stars5.6te.net. Page Editor: G. Guichard. last edited: 12/28/2010. contact us at ggwebsites@outlook.com