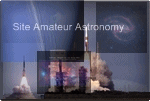 'Amateur Astronomy,' The One Stop Place for Amateur Astronomy! - - General Edition













version française simplifiée
NEW (observational). check updated orbital moments for the main outer planets!


Editor's Choice Fine Picture Archives

Editor's Choice Sky At



Tech News


animated illustrating picture: Ursa Major, the Great Bear, A view of the Moon (Sinus Iridum), Jupiter, The International Space Station (ISS), A stellar formation region (site Amateur Astronomy, based on miscellaneous sources)
Disclaimer | Copyright | Privacy | About Us | Site Map

check more sites (Carolingian times' learning, flight simulation, balcony vegetables gardening, world's trends) by this site's webmaster! / d'autres sites (culture à l'époque carolingienne, simulation de vol, jardinage de légumes en balcon, actualités du monde) par le webmaster de ce site!




Website Manager: G. Guichard, site 'Amateur Astronomy,' http://stars5.netfirms.com/. Page Editor: G. Guichard. last edited: 8/1/2014. contact us at ggwebsites@outlook.com